Welcome to the most exciting Techno hobby of the Twenty-First Century:
HOMEBUILT VALVELESS PULSEJETS
Heat.
Noise.
Blue fire.
Thrust.
Propulsion.
If you've ever wanted to do something that really WILL "amaze your friends", THIS is the place to find it!

When was the last time you felt genuine, gut-level excitement about your favorite hobby? Here's my Canadian friend Vern Woodbeck enjoying some spare time out in the garage (just put on your headphones and click on the 'Play' button):



This text will be replaced





I'm Larry Cottrill - you've run across my name if you've ever searched the Web on keywords like 'homebuilt pulsejet engine' or 'valveless pulsejet'. Since the summer of 2004, I've been showing hobbyists around the world how to homebuild real air-breathing, fuel-burning jet engines that start up easily and really run from truly low-cost materials and WITHOUT the use of expensive machine tools!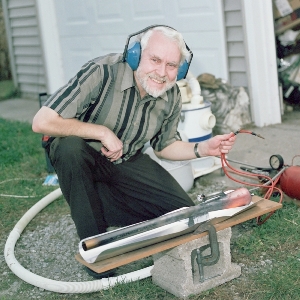 That's me, testing my original 'Short Lady' FWE, summer 2004
To build my engine designs, all you need is a welding outfit and ordinary hand tools for sheet metal - no lathe, no milling machine, no fully equipped machine shop. The only skills needed are ordinary sheet metal working and light welding (you DO need to be able to make good quality fillet and butt welds on thin sheet steel - NOT spot welding!). That's all there is to it. All my engine designs can be built successfully from ordinary mild steel sheet (though of course you CAN use stainless steel, if you have the extra skills and tools needed, and the money to buy the material - stainless engines will literally "last a lifetime", even with heavy use).

So, how "real" is a jet engine you can make yourself with ordinary tools?

The one you just saw Vern start up is one of my more advanced designs, the 32-inch (81 cm) Lady Jane Grey engine, which he built in a few hours of shop work (Vern, for some unknown reason, enjoys testing his engines indoors - NOT usually recommended!) - just click on the 'Play' button to see how nicely he runs out this medium-size homebuilt engine (note the blue pail of water being lifted off the floor by the thrust of this motor):
| | |
| --- | --- |
| | This text will be replaced |
Vern built his Lady Jane from my plans using ordinary 16 guage mild steel. He even tried mounting his engine on his fishing boat to putter around one of his favorite lakes (no fish biting that day!). Though Vern has access to a good shop, only the simplest tools were actually used to get his jet built over a couple of weeks in his spare time.

So how will this site help you get started?

What I'm trying to do on this site is offer (or point you to) all the basic resources you need to safely build and run a modern valveless pulsejet of small size. Complete plan and detail drawings for your first engine will be here. Lots of full-color photos will show all the steps in detail, with top quality written instructions. Following these detailed steps through just a few hours of careful shop work will give you a small propane-powered pulsejet that really WILL start and run! And, here's the best part: Working in mild steel, the total cost of your first engine will be only a few US dollars (probably less than a single 20-pound propane refill)!
Some of the resources we'll have available (watch for these to become links):
Why You DON'T Need To Be a Machinist To Build Your Own Working Jet Engine


Pulsejet Safety - Building, Testing and Using Your Engine


Plans and Parts List For Your First Working Pulsejet


Building Your First Pulsejet, Step-By-Step


Setting Up Your Fuel System (Propane Vapor)


Setting Up Your Ignition System


Starting and Running Your Pulsejet Engine


How To Approach Building More Advanced Designs


www.pulse-jets.com Forums (owned & managed by Mike Everman)
- Register here to join!


The World's Best Homebuilt Pulsejet CD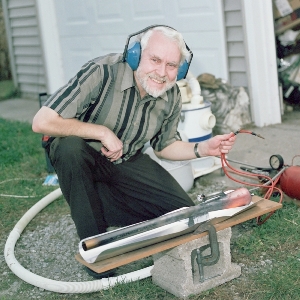 Larry Cottrill
Director of Product Development
Cottrill Cyclodyne Corporation
Soli Deo Gloria
Johann Sebastian Bach 1685 - 1750

Questions? Comments? Need support? email larrycottrill@cottrillcyclodyne.com